​
Tomohisa MIYAUCHI is a registered architect in Japan and the U.S.A and an Associate Professor at the Kyoto Arts and Crafts University, Department of Architecture, conducting design studios and lectures. He is an architect, curator, editor, and educator. His teaching and research areas include Architectural Practice as Entrepreneurship and Experimentation, Contemporary Architectural Theory, and Curation in Architecture. He received his Bachelor of Architecture with distinction from the Southern California Institute of Architecture (SCI-Arc) in 2000, and a Master of Architecture in 2004 from the Graduate School of Design at Harvard University (GSD).
During his study, Tomohisa received design studio under Greg Walsh (former partner of Frank Gahry), Jim Stafford (former partner of Morphosis), Roger Sherman, Eric A. Kahn, Tom Wiscombe, Neal Denari, Mark McVay (former architect of OMA), Michael Speaks, Jeffrey Inaba, Alejandro Aravena, Rafael Moneo, Rick Joy, Toshiko Mori (Material Study), Yoshiharu Tsukamoto, and Momoyo Kaijima (Teaching Assistant for them at GSD).
Tomohisa founded the architectural partnership ISSHO in Tokyo shortly after graduating from SCI-Arc and was responsible for the design of various projects relating to art, space, and architecture in Tokyo and Shanghai. In 2010, he was selected as one of the 20 emerging designers in "JAPAN DESIGN+" by the Ministry of Economy, Trade, and Industry (METI) of Japan.
While maintaining his creative independent architectural practice in Tokyo, Tomohisa served as a senior editor for Architecture and Urbanism (A+U) for over a decade and further broadened his understanding of architecture and architectural practice through visiting remarkable buildings and interviewing architects around the world. Through his combined expertise in practice, curation, and teaching, Tomohisa has acquired a broad spectrum of appreciation in the field of architecture. His balanced view of the discipline enables him to be a holistic mentor for his students as well as an ambassador who can bridge different practices and cultures. Tomohisa represented Singapore as a curator for the Pavilion of Singapore at the 15th, 16th and 17th International Architecture Exhibition, La Biennale di Venezia, in 2016, 2018 and 2020-2021.
Academic/Professional Qualifications:
-First-class Registered Architect, Ministry of Land, Infrastructure, Transport and Tourism, Japan
-AIA, American Institute of Architects, Registered Architect, New York State, USA
-M. Arch, Harvard University Graduate School of Design (GSD), Cambridge, USA, 2004
-B. Arch, Graduation with Distinction, Southern California Institute of Architecture (SCI-Arc), Los Angeles, USA, 2000
Design Awards/Honours:
-Good Design Award 2017, Japan. HDB: Homes of Singapore, 2017. Category: Regional/Community Development and Social Contribution Activities
-Japan Design+, 20 Emerging Designers, the Ministry of Economy, Trade and Industry (METI) Japan, 2010
-Good Design Award 2010, Japan. KKM3, 2010. Category: Architectural Design
-JCD Design Award Best 100, Japanese Commercial Designers Association, YUFUTOKU, 2010
-The 13th Annual Japan Lumbermen's Association Awards, YUFUTOKU, 2010
-GREEN DOT Awards, 3rd Prize, INAKA Villa, 2008
-50 New Architects of the World, Wallpaper*, UK, 2008
Career History:
-Associate Professor, Department of Architecture, Kyoto Arts and Crafts University, 2022
-Current-Professor of Practice, School of Architecture and Design, IE (Instituto de Empresa) University, (Segovia and Madrid, Spain), 2020-2021
-Founder, Archisan, Tokyo, Japan, 2012-Current-Senior Lecturer, Department of Architecture, National University of Singapore, 2013
-2020-Senior Editor, Architecture and Urbanism (a+u), Tokyo, Japan, 2007­-2017
-Founding Partner, ISSHO, Tokyo, Japan, 2002­-2012-Associate Designer, Moore Ruble Yudell Architects and Planners (former office of Charles Moore), Santa Monica, USA, 2004­-2006
-Intern, Toyo Ito and Associates, Tokyo, Japan, 2002
Administrative Leadership:
-Curator, The Pavilion of Singapore at the 17th International Architecture Exhibition, La Biennale di Venezia, 2020-2021
-Curator, The Pavilion of Singapore at the 16th International Architecture Exhibition, La Biennale di Venezia, 2018
-Chairman, The 5th Asian Contest of Architectural Rookie's Award (ACARA), Singapore, 2017-Chairman, ArchiprixSEA 2016, Bandung, Indonesia, 2016
-Curator, The Pavilion of Singapore at the 15th International Architecture Exhibition, La Biennale di Venezia, 2016
-Organizer, Japan Architecture Internship Workshop Program, Japan Creative Centre Embassy of Japan in Singapore, 2014-2015
-Jury, The ULI Asia Pacific Awards, The Urban Land Institute, 2009-2011
-Member, The Young Leaders Group, The Urban Land Institute, Japan, 2006-2011
-Organizer, AsiaGSD, Harvard University Graduate School of Design, 2002-2004
Major Exhibitions:
-The Pavilion of Singapore at the 17th International Architecture Exhibition, La Biennale di Venezia, 2020-2021
-The Pavilion of Singapore at the 16th International Architecture Exhibition, La Biennale di Venezia, 2018
-The Pavilion of Singapore at the 15th International Architecture Exhibition, La Biennale di Venezia, 2016
-ABILIA Edutainment Park Fire Station, Shanghai EXPO, China, 2010-Machinic Processes, Architectural Biennial Beijing, China, 2010
-The Flow of the Modern Architecture in Japan, Exhibition, Argentina, 2009
-Asian Body, BTAP 798 Art District, Beijing, China, 2007
Major Publications:
-Author, HDB: Homes of Singapore, ISBN:978-981-11-2286-6, 2017
-Author and Editor, Space to Imagine Room for Everyone, DesignSingapore Council, Ministry of Communication and Information, ISBN:978-981-11-1610-0, 2017
-Editor in Chief , Vertical Cities Asia, Volume 5, Everyone Contributes, ISBN:978­-9-­810-­95994-­4, 2016
-Chief Editor, Past Wisdom in Future Design, CASA, Department of Architecture, National University of Singapore, ISBN:9-789810-969950, 2015
-Editor in Chief , Vertical Cities Asia, Volume 4, Everyone Connects, ISBN:978­-9-­810-­95994-­4, 2015-Editorial Adviser, 'Innovating the Hub ­Ecosystem for Healthy, Strategic Growth Singapore Sports Hub', Architecture and Urbanism (A+U) Asia Edition, ISBN:978­-981-­09­4724-­8, 2015
-Editor in Chief , Vertical Cities Asia, Volume 3, Everyone Harvests, ISBN:978-9-810-91116-4, 2014-Chief Editor, Singapore, Capital City for Vertical Green, a+u, special issue 12:07, ISBN:978-981-07-2215-9, 2012
-Contributor, Rudolf Steiner and Architecture, TIERKREIS, August 2010
-Chief Editor, a+u, special issue 09:08, Architectural Transformation via BIM, August 2009
-Chief Editor, a+u, 08:02 449, Global Strategies in Architecture, February 2008
宮内智久
ハーバード大学デザイン大学院建築学部修了
南カリフォルニア建築大学建築学部学士卒
AIA米国建築家資格ニューヨーク州登録一級建築士
京都美術工芸大学建築学科 准教授
株式会社宮内智久建築都市研究所 一級建築士事務所 主宰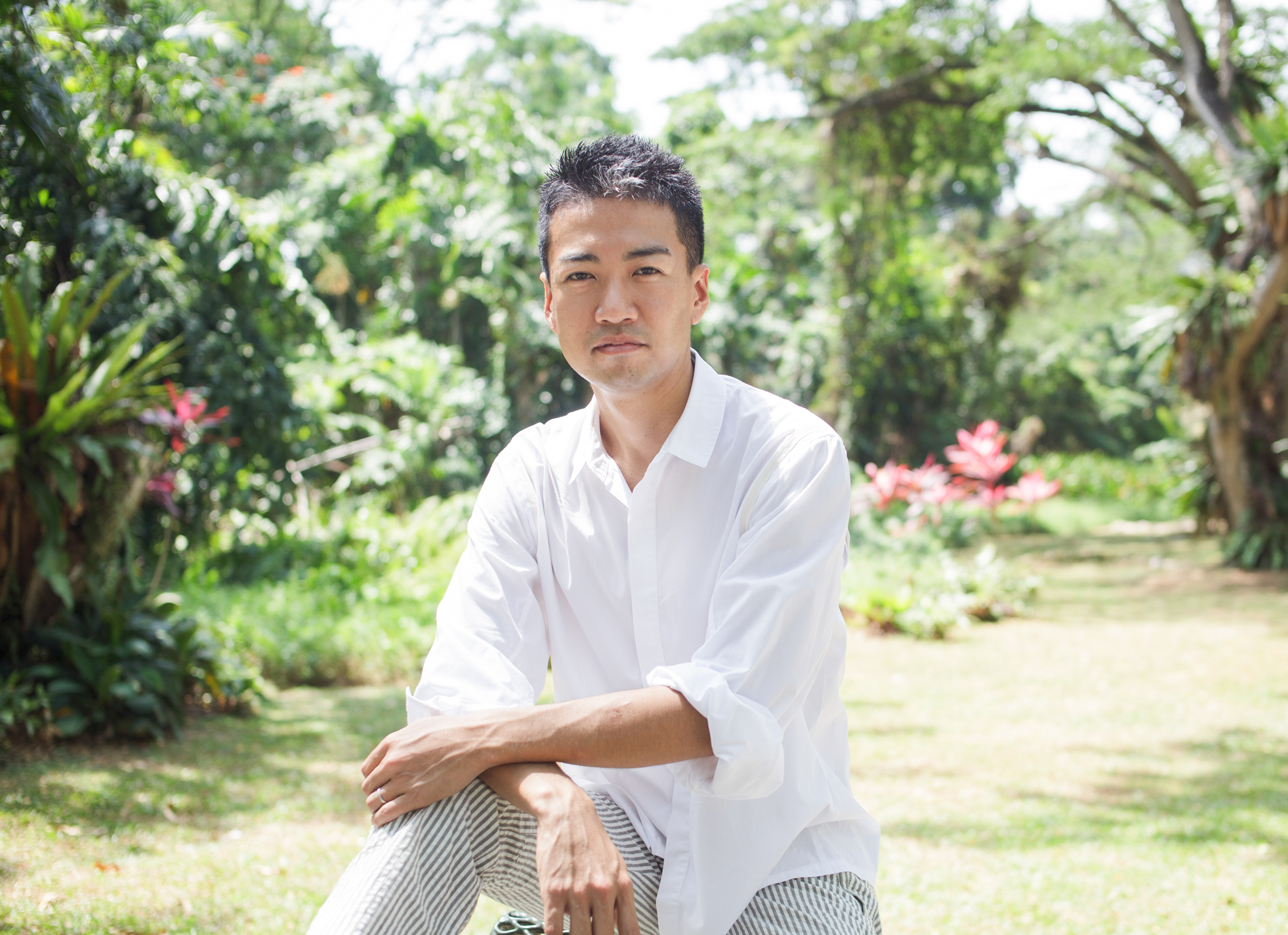 Photo by Fabian Ong